Home

/

Clash of Pirates Slot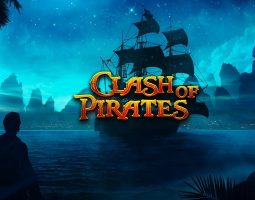 Clash of Pirates Slot Machine Free Play
Bonus
Free Spins, Abbyss Feature
Play Clash of Pirates slots to go on your high-sea adventure. Live the life of a pirate and battle it out with other swashbucklers for the chance to win prizes. This 5×3 reel online slot will have the Kraken itself appear before you to block your treasures. Land combinations to launch your cannons and win on the 30 paylines available. You can win quite easily with an RTP rating of around 96.03%. The bonus spins mode will have random symbols appear to make your battle even more exciting. All of this and more can be found in the middle of the seven seas.
Describing Clash of Pirates Slot Machine
Clash of Pirates online is about what you would expect. Evoplay has brought you a creative and adaptive adventure. The slot puts you right into the action with a battle across the seven seas. The entire game will be placed right onto the pirate ship. In the background, you can find the dark reaches of the port with the night sky ever-looming overhead. The fog settles in as more combinations are landed. The design of the reel grid will match the ship, with a red, spiralling architecture that gives it a simply distinct look.
Speaking of the reel grid, most of the symbols will resemble coins. Either it will have pictures of the crewmen on them, or it will have the traditional card numbers in the appropriate font. The crewmen are designed to look similar to characters from the Treasure Island tale. When the bonus is activated, the screen will become darker. The long, curling tentacles of the Kraken will envelop the entire screen so much so that they will curve around the reel grid and even slip into the lines between the reels. All the while, the music gets more and more intense during your desperate struggle to escape with all of the prizes you have gained intact.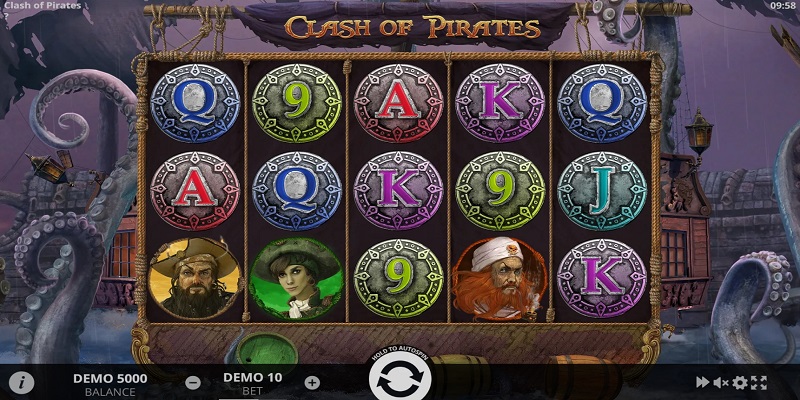 Benefits of Clash of Pirates Slot Game
To play the game, you will need to arm yourself with a bet from the casino. Deposit money by signing up with an Evoplay approved online casino site. Once the bet is made, you can proceed to spin the reels like spinning the wheel of a ship. Land combinations by having a matching combo of three or more of the same symbols. You can use special symbols to create a promotion around. This can create better chances of you winning. It can even increase the size of the prizes as well.
Paytable
The paytable will give you everything you need to know when it comes to prizes. The value of every symbol is recorded here, as well as how many you need for bigger rewards. Be careful, as these values will change if you alter the bet made. The currency will also change on the localization. The Canadian version will use Canadian dollars. Here is what you can make:
| | |
| --- | --- |
| Symbol Description | Symbol Value (3x to 5x) |
| 9, 10, J, Q | 0.10 – 3.80 |
| K, A | 0.20 – 5.00 |
| Sailor, Captain, Crewman | 1.00 – 15.00 |
| Enchantress | 0.30 – 28.00 (2x to 5x) |
| Scatter Medallion | 2.00 – 30.00 |
Bonus Features of Clash of Pirates Casino Game
In this game, two different symbols can mean the world to you, the symbols that can help you conquer the Kraken and protect your winnings. You may find even greater treasures with these bonuses around. The first is the Scatter symbol. This can act as a great of getting winnings without combinations. Scatters can land anywhere on the reels and offer a payout even if they are not lined up. If you land three or more of them in the main game, they will award you up to 10 free spins. The Scatter symbols will no longer appear during the free spins, so you cannot re-trigger them. Free spins allow you to get more wins together while using just a single bet.
Another symbol to look out for is the Abyss symbol. If you can land one or more of the Abyss symbols, this will summon the Kraken. The Kraken will then turn these Abyss symbols into random symbols. All of them except the Scatter can appear from these symbols. It can grant you more chances of scoring a win. The best way to get a combination is to get more Abyss symbols so that you have more opportunities to do so.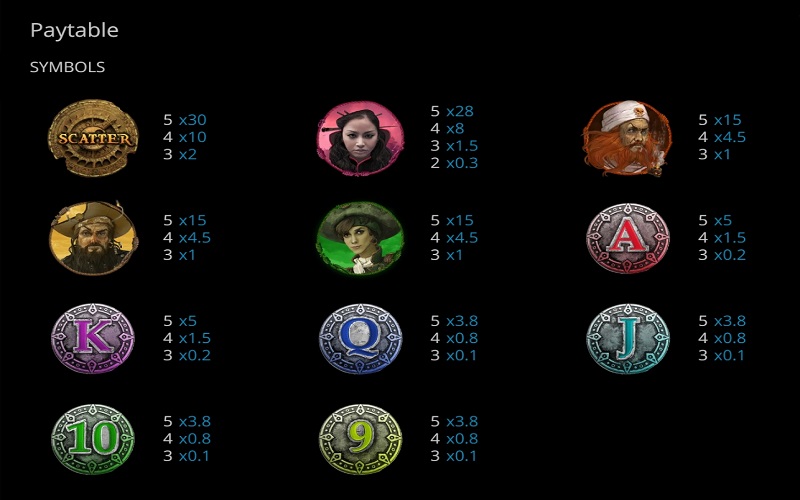 Tips and Strategies
Free spins are a must when it comes to getting bigger wins. Allowing you to use a single bet when playing means it can grow to be something bigger. The more combinations you score in the free spins, the bigger your rewards will be. A small bet can lead to a massive prize that was not possible beforehand. Better yet, the Abyss symbols can make things more interesting. Grabbing these can turn a potential loss into a win. No matter what the outcome, you will always be given a new opportunity in the most unexpected places.
Try practicing these kinds of combinations for yourself in the free play version. A demo can be played where you don't have to spend any real money. You can find a free slot no download substitute from the official site of the software provider, Evoplay. Review pages will also have a demo available from their information site. Playing the game without worrying about losses can help relieve stress and give you a better time having fun, simply gaining enjoyment from the slot without having to worry about getting that big win.
Software Provider
The main software provider for this title is Evoplay. They are a fresh and creative company that focuses on that high-tech quality. The games they produced rival that of Triple-A video games. The graphics and animations are unrivalled, producing far better quality than that of other mainstream providers. The gameplay features, too, are integrated incredibly in the looks. There are many themes here that go from traditional gambling to fantasy-dungeon exploration. All of the games can be played on mobile devices, making them incredibly accessible for anyone to come to join.
The software provider is highly promotable, able to form a connection based on a friendly welcome. This makes them perfect for releasing new games across the globe for anyone to experience.
Conclusion
Clash of Pirates is such a fun game to play. It exhibits the best of many aspects that Evoplay has brought to the table, all the while showing off some classic functions. While there is no Wild symbol, the other features can pack quite a punch by bringing in random elements. You may find yourself with quite a shock on your face when you have a combination appear right from under you. Keep playing to score bigger wins whilst also facing off against the deadly Kraken.
Frequently Asked Questions about Clash of Pirates Slot Machine Free Play
Can you play the slot for free?
It is possible to play for free on the official site of Evoplay. You can do more demos on review pages like this one.
What bonuses does Clash of Pirates have?
Use the Scatter symbols to unlock up to 10 free spins to use. The Abyss symbols can turn into random symbols for more combination offers.
Can you play Clash of Pirates for real money?
Play on any available casino connected to Evoplay. This can let you use promotional offers for better benefits.
What other titles has Evoplay made?
Play tons of other games that 82% of players have returned to play. Games include Treasure Mania, Walley of Dreams, Fruit Nova Super, Rise of Horus, Midnight Show, Lucky Sector, Bloody Brilliant, and Roll to Luck.