Centurion Slot Machine Free Play
Bonus
Wild Symbol, Scatter Symbol, Autoplay Option, Multiplier, Free Spins, Bonus Game
Play Centurion slots to see what a real warrior looks like. Battle it out in the arena to win glorious victory and tons of money. This 5×3 reel online slot features a pack of action and goodies. Use your sword and shield to wield many combinations in winning the battles to come. You can use Expanding bonuses to cover the arena and win more often. The RTP rating is at 95%, with a total of 20 paylines for you to try and win on. Every soldier in the field will have their own shield and swords waiting for you to come at them. Become the champion of war and get thrown into true Roman history.
Describing Centurion Slot Machine
Centurion online is developed by Barcrest. They have a lot of classic games, which add in a lot of traditional themes. One of those themes is the aspects of Roman history. This game, in particular, is based on gladiator matches. This is where many soldiers or criminals come to do battle with one another, to test each other skills for honour and glory. Many of the fighters will have battle one on one or in a group. The battle will take place in a forgotten temple. A place that is overgrown with vegetation to show the passage of time. The style of the reel grid is also made just like the architecture.
The symbols used in the game will be based on the many weapons you can wield. These weapons can all win you prizes, but it's clear some are worth more than others. There are even some soldiers who will make an appearance when a bonus has been activated. They will sound the horn to let you know when something is really kicking up. Afterward, you can expect to see a lot more elements of Roman culture shown in the symbols. The sound of the battle will heighten as the stakes get bigger.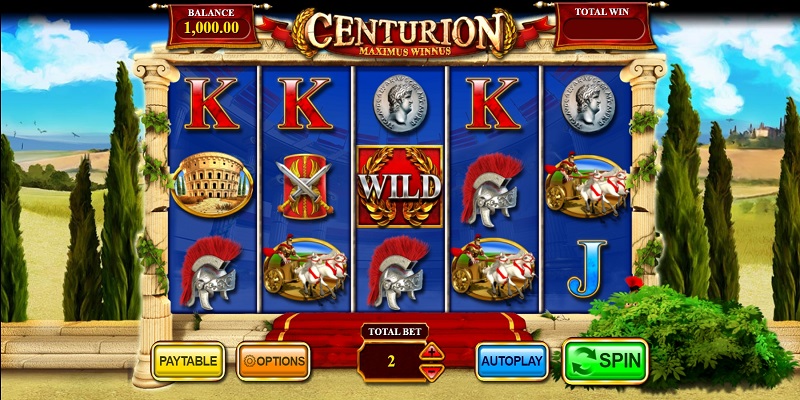 Benefits of Centurion Slot Game
To win in this slot machine, you will need to land combinations of one-of-a-kind symbols. The symbols will all be based on certain aspects of Roman history. The more valuable the symbol, the bigger the prize will be. You can utilize the bet functions below to set your bet. The smallest number of coins you can bet in the game is two. Anything higher can land you bigger rewards because of the value change. You can try using bonuses to get you more chances of winning. These may increase the value of the prizes as well.
Paytable
If you want to know what each symbol is worth, the paytable can show how much. Located in the info menu on the bottom of the reel grid, this can tell what you can win. Take note that the values will change if you alter your bet in any way. This is to make sure you have the correct values. It will also change due to localization. The Canadian version will calculate in Canadian dollars. Here is what you can win with a total of 250:
| | |
| --- | --- |
| Symbol Description | Symbol Value (3x to 5x) |
| K, J, Q | 4 – 200 |
| Helmet, Coin, Swords | 8 – 300 |
| Arena | 20 – 400 |
| Gladiator | 30 – 400 |
| Centurion Logo | 4 – 500 (2x to 5x) |
Bonus Features of Centurion Casino Game
There are multiple features you can use to get yourself in the mood for winnings. The first is the Super Bonus Reels. These can happen at random during any spin that you make. Here you can get the free spin symbol more quickly. The other Super Reel promotion is the 5 of a kind. This guarantees a five-symbol combination on your spin. The next one is the Big Win reel bonus. This will guarantee a high-value symbol to appear on any of the reels so you can score the highest possible prize. The last of the reel bonuses is called Reelus Maximus. This will select a high-value symbol to appear over the first three reels. This includes the entire reel, so it will expand the symbol to get more chances of a combo.
The Fortune Bet is another random bonus that can trigger. This doubles the size of your Scatter symbol so that it can land more often. Landing at least three or more of the Scatters will trigger your free spins. This will give you multiple combinations from just a single bet and can maximize your total profit.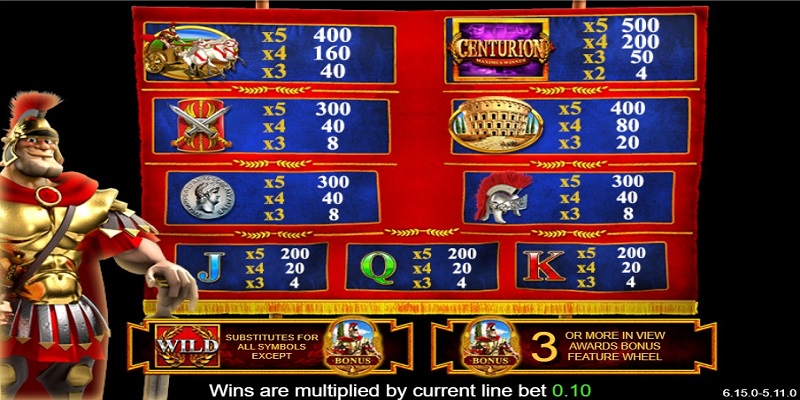 Tips and Strategies
The best way to win is through the long plays. The more you spin, the more chances there are of triggering the reel bonuses. Any one of these can get you a big win no matter what. The best one to aim for, however, is the one that can make the Scatter symbol appear more often. Landing those will trigger free spins. In these free spins could be even better odds of getting more reel bonuses. The more you chain together, the highest possible outcome will appear to win the best rewards. Try and get the Scatters to land naturally, and you could find yourself with the reel bonuses coming your way too.
If you want to practice first, you should try out the free slot no download version. This is a version of the game that lets you play without real money. It will utilize tokens instead, which can be refilled instantly whenever you log out and log back into the game. The demo is freely available on the official site of Barcrest. It can also be found on review sites such as this one. Get practicing so you can get the hang of the rules. It's also a great way to just have some fun even when you're not playing for real money.
Software Provider
The software provider for this online slot is Barcrest. This studio is a subsidiary of the popular developer, SG Gaming. They have over 50 years of experience in their belt, producing games like never seen before. They provide innovative steps to realizing online gambling's true potential. The technology they incorporate makes them suitable for developing both online and land-based content. They use incredible lighting and performance tech to make every game come to life, all powered by a versatile CPU-NXT 3.2 processor. This is capable of performing quick and easy calculations on the fly. Suitable for many fast-paced players of slot machines.
Conclusion
Centurion is an amazing example of packing so many good things into one small package. Its available bonuses can come in many varieties. Each of which can help you in different ways, providing every possible chance you can get to win. If you want to get the best possible outcome, you can try and grab all the bonuses for an amazing sensation. The graphics and animations will bring the battle to life and put you right in the thick of Roman history.
Frequently Asked Questions about Centurion Slot Machine Free Play
Can you play the slot for free?
You can happily enjoy Centurion free play on any available casino connected to Barcrest. Review sites will also have them available as a demo.
What bonuses does the Centurion slot have?
Use multiple Reel Bonuses to get different mechanics to help you. You can get more symbols to appear or expand high-value ones for the biggest prizes.
Can you play Centurion for real money?
Play at any available casino that is connected to Barcrest. Examples include Pink Casino, 21Red, and many others.
What other games have been made by Barcrest?
Barcrest has produced many popular titles. Some of their newest titles include Psycho Cash Beast, Flippin' Out, Shark Raving Mad Low Denom, WildX-tra, and Easy Money.
Popular
Games
All games
Barcrest Games, Slots, Casinos Slot Machine