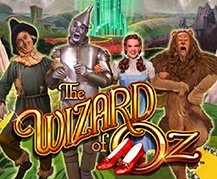 Wizard of Oz Slot Machine Free Play
Bonus
Wild Symbol, Scatter Symbol, Autoplay Option, Multiplier, Free Spins, Bonus Game
Slot machine games that are adapted from a famous story are always fun. If this story is the Wizard of Oz, they are even more fun! This famous child story we all know and love is adapted to a successful slot machine game by WMS Interactive. WMS is a company we know closely; they are founded in the early 40's and is considered one of the oldest companies in the business. WMS Interactive is now part of Scientific Gaming Interactive, but they also developed PC games like Mortal Kombat and NBA Jam in the past, and The Wizard of Oz is one of their most famous slot games, as well as one of the most played games in land-based casinos. This version (which is the subject of our review) can be played online and offers all of the features of the land-based game.
Interface & Mobile Support
Let's start by giving basic information: the game has a fairly simple structure and an easy-to-understand interface. The graphics quality is not very high, but it is quite sufficient for the category it belongs to, and the effects that appear on the screen during the bonus rounds are quite impressive. The Wizard of Oz, which falls into the category of video slot machines, offers all the features that are standard in this category.
There are, however, 9 different bonus rounds which can be activated separately: this is an incredible amount which we are not used to see in other games of this kind. The game follows the footsteps of Dorothy and uses bonus features to advance the story: as you continue playing, you meet other famous characters (Tin Man, Scarecrow, Lion) and eventually you fight the evil wizard. As well try to play Illusionist True.
The highest prize you can win is 250,000 coins. For a slot machine in this category, this is a very satisfying number. The Wizard of Oz, unfortunately, does not have native mobile platform support. Since it is an older game, it runs on the Flash platform and can be played on any mobile device that supports it. However, since the same interface is used, there is no optimization for touch-based controls. Still, we can say that you can play with your mobile phones and tablet PCs as well. Lastly, remember that you can play the Wizard of Oz slot machine game for free. The Wizard of Oz is completely free to play, and you do not need to install any software. You can start playing in seconds without making any registration and using your internet browser. Enjoy for such amazing game like triple crown slot online.
Symbols & Paytable
As you can see, there are a number of reels at the top and control buttons at the bottom. Even if you have never played such a game before, you can easily understand the functions of the buttons. The Wizard of Oz slot machine contains 5 reels, 30 pay lines, and 10 symbols. Pay lines are real lines connecting each side of the screen, and each one goes through a slot. Your aim is to arrange identical symbols side by side on any pay line. You need to match at least 3 symbols and each row gives you a prize in different amounts. If you manage to arrange more than 3, you are awarded a bigger prize.
So, how are these awards determined? To answer this question, we need to look at the pay table. (Click the yellow square at the bottom left to do this.) In this table, the amount of awards given by each symbol set is shown in detail. All of the symbols are symbolized by pictures associated with the Wizard of Oz story. 4 of them have quite high payout values. The remaining six are used to give prizes regularly but in low quantities. Let's take a closer look at these symbols (and their payment amounts):
| | | | |
| --- | --- | --- | --- |
| Symbol | 3x Pays coins | 4x Pays | 5x Pays |
| Jackpot | 50.000 | 5.000 | 500 |
| Game Logo | 5.000 | 1.250 | 375 |
| Dorothy Portrait | 3.750 | 750 | 250 |
| Tin Man, Lion, Scarecrow | 2.500 | 500 | 125 |
| Red Shoes | 750 | 125 | 50 |
| Witch | 750 | 125 | 50 |
| Toto (dog) | 750 | 125 | 50 |
| Country Home | 500 | 100 | 25 |
| Tornado | 500 | 100 | 25 |
| Balloon | 500 | 100 | 25 |
Remember that the amount of these prizes is linked to the betting value: the higher the amount of your bet, the higher the prizes. So if you want to win the maximum limit of 250,000 coins, you need to play with the maximum stakes. The free Wizard of Oz slot machine can accommodate your budget, and this is an advantage.
How to Play & Jackpot
To start the game, you must first determine the bet you want to deposit. You can do this by using the box that says "Bet / Lines". By pressing the plus and minus buttons, you can set your bet as you wish. The highest bet you can place is 5.00 coins per pay line. The total maximum bet is 150 coins, because there are 30 pay lines in total. The minimum bet amount is only 0.01 coins. In this case, you will place 0.30 coins for each spin.
As we mentioned above, you can play the Wizard of Oz slot for free and in the free version, we recommend playing with the maximum stake. The trial version you can play for free gives you 1,000 complimentary coins, which is enough to play for hours. However, in the version you can play with real money, we recommend to start with low betting amounts and slowly raise the stake. You can also switch between the two versions anytime you want, so you can start playing for free and switch to real money, the other slot machine games popular like the Wizard of Oz slot are the next:
Monopoly slot;
Cash Wizard;
Amazonia;
Cleopatra by IGT;
Mega Moolah;
Diamond Tower;
Once you have set your bet amount, simply click on the "spin" button in the bottom right corner. The reels will turn and if you get at least 3 identical symbols on a pay line, you will be entitled to a prize according to the pay table. If you like, you can also do as many automatic spins as you like using the button in the bottom left corner. This feature will turn the reels for you and continue until canceled.
Jackpot payout occurs if you receive at least 3 jackpot symbols together on the screen. In this case, you can look at the pay table section to see how much of a prize you are entitled to. We should mention the possibility of winning too: the Wizard of Oz offers an RTP value of 95.99%. In other words, you can recover $ 95.99 of every $ 100 you invest in the long term. From this point of view, we can say that the game has an RTP value of over the average and thus offers a high probability of winning.
Bonus Symbols & Bonus Rounds
Other than the jackpot symbol, there are only 2 bonus symbols in the game. These are wild and scatter symbols. (Scatter is called "feature".) Each one offers a different feature and/or used to activate a bonus round. Let's take a closer look:
Wild Symbol: As with many games in this category, wild symbol is used to replace any other symbol in the game. The only exception to this is the scatter. It is shown with the logo of the game and you can use it to complete a winning combination.
Feature Symbol: Offers much more than a standard scatter symbol. Feature is used to trigger any of the 9 bonus rounds in the game. A picture of the Emerald City counts for the feature symbol and when you manage to land 3 of them anywhere on the screen, a special round called "Oz Pick Me" starts. You are asked to choose an option during this round and your choice will activate one of the 9 bonus rounds. You cannot, in other words, which bonus round you will get: it is completely random and based on luck.
These bonus rounds are:
Multiplier Prize: You will be awarded x10 or x25 times of your bet immediately.
The Good Witch:Adds another wild symbol (witch) to the reels during the main game for a random number of spins. In addition, this new wild symbol can expand and fill the entire reel.
Winged Monkeys: This is the free spins round we know and love. You are awarded 8 free spins and they are automatically used. During this round, another wild symbol starts to appear on the middle reel. You need to click on it when this happens. After that, literally flying monkeys will appear on the screen and "steal" a random number of symbols. New ones will drop from above to replace them.
Emerald City: You are asked once more to choose between 4 emerald symbols. The choice will either reveal one of the other bonus rounds or award you x1.500 times of your bet.
There are also 4 more bonus features named after the Tin Man, Lion, and Scarecrow characters. They are basic "pick me" features and each time you need to find the main character. If you can do that, you will immediately advance to the Emerald City feature.
The Wizard of Oz slot machine game can be played almost from anywhere in the world, including but not limited to United Kingdom, South Africa, New Zealand, and Canada.