Home

/

Vegas Three Card Rummy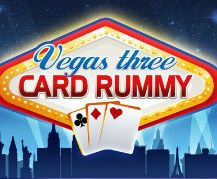 This is one of the oldest and simplest games around, and most casinos still offer it to their visitors. It is also known as "Sai Rummy," and each round takes around 15 minutes to complete. If you played Mahjong and 3 card poker in the past, you would notice the similarities: this is a kind of a mix-up of those two. The gamble is based on this simple yet entertaining game and can offer hours of casual fun to all players.
It is visually attractive and modern looking. The interface looks like a real rummy table, and at first glance, it may seem complex. However, it is not – the rules are very simple, and you can start playing like a professional in mere minutes. All mobile devices (i.e. tablet PCs, mobile phones) able to run Flash software are supported. You can try play for free or for real money, both options are possible. No download or no registration needed.
Rules of Vegas Three Card Rummy Game
It's all about matching cards of the same rank or the same suit in sequence. For example, you can form 3 of the same rank or 3 in sequence and the same suit.
In the classic version, each player gets 13 cards in total. The goal is to arrange them into 4 groups, and each group must contain 3, 3, 3, and 4 cards. If they in a group are of the same rank or in sequence and the same suit, they "meld" and discarded from the game. The goal is to discard everything you have. For each one discarded, you can draw a new one from the pile.
However, the Vegas version of Rummy uses slightly different rules based on a point system. In this version, each card has a point value and the goal is to have fewer points than the dealer. Only 3 cards are dealt at each round, and you can also place a bonus wager.
| | |
| --- | --- |
| Card | Point |
| Ace | 1 point |
| 2 to 10 | Pip value |
| Face Cards | 10 points |
In a way, 3 card rummy is much simpler than the classic one. Only a little strategy is needed, and after the initial dealing, you only have the options to raise or fold.
How to Play Vegas Three Card Rummy
An ante (entry) wager is needed. As you can see, there are 5 poker chips located at the bottom right side of the screen. Each one has a different numeric value. These values represent your wager, pick one and click the "ante" spot afterward. You can start the game by clicking the "deal" button. You can also place a bonus bet, which is about getting a specific combination. (Bonus wager is completely optional.)
You will get 3 cards, just like the dealer. You cannot see what the dealer has, but you can see your total on the screen. There are only 2 options available:
Raise: Raise the ante stake if you are confident of your hand. The minimum raise can be twice of your entry bet. Just click the "raise" spot to place the wager automatically.
Fold: Folding is not equal to forfeiting, like in poker. By folding, you do not lose. After clicking the "fold" button, the dealer will reveal his hand, and you can still win if you have a fewer total.
Each option will end the round, the dealer reveals his cards, and one must have 20 points or less to qualify. If he exceeds 20 points, you win. If he qualifies, the hand totals will get compared.
As explained above, if you have a total fewer than the dealer, you win the round and get paid according to your hand and the paytable. If you placed a bonus bet and managed to get a specific combination too, you will also win the prize for that. The paytables of the Vegas Three Card Rummy casino game as follows:
Raise Stake Payouts

Score

Odds

0

4 to 1

1 – 5

2 to 1

6 – 19

1 to 1
Bonus Stake Payouts

Score/Set

Odds

A – 2 – 3

100 to 1

Suited Run

100 to 1 (Ace – King is not a suited run)

0

25 to 1

1 – 6

2 to 1

7 – 10

1 to 1

11 – 12

4 to 1
At the end of each round, you can start a new one with the same betting values by clicking the "rebet" button. If you want a fresh round with different bets, simply click on one of the poker chips.
Minimum & Maximum Bets
You can bet 1.00, 5.00, 25.00, 100.00 or 500.00 coins for each round. 1.00 is the minimum, and 500.00 is the maximum stake. The highest payout is 50.000 coins and available only if you place a bonus bet. For the normal gameplay, 2.000 is the maximum payout.
The gamble offers a complementary balance of 1.000 coins for the demo version. You can practice as long as you want, it will last for hours of gameplay.
Vegas Three Card Rummy Casino Game Strategies
As this is a simple game, the strategies are simple as well. There is only one strategy you need to know: raise if you have 20 or fewer points and fold with 21 or more points. By following this Vegas Three Card Rummy strategy, you can lower the house edge as low as possible up to %3.23. We also recommend trying your luck with the bonus bet, because the house edge for that is only %3.46, nearly the same as the base game.