Tornado Slot Machine Free Play
Bonus
Wild Symbol, Scatter Symbol, Autoplay Option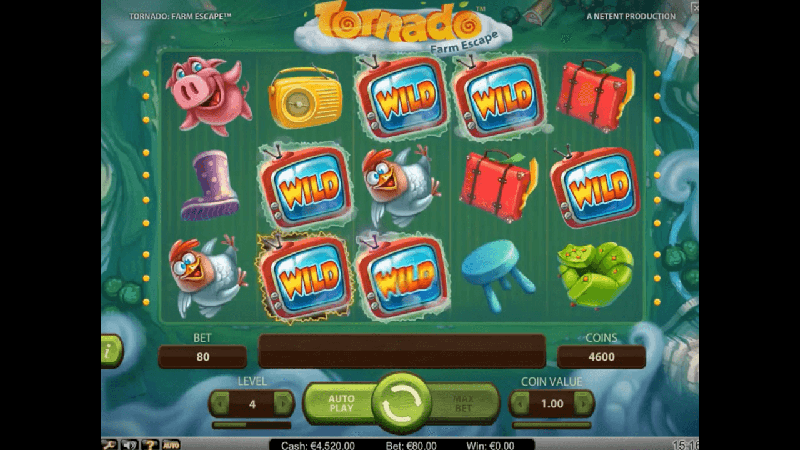 Play Tornado: Farm Escape online to fight against the biggest disaster from mother nature. This cutesy, 5×3 reel online slot has up to 20 paylines to align combinations on. The adorable farm animals are in danger of being blown away. Hidden within the eye of the storm is where you can find your big win. Many other prizes can also be found within the barnyard. By controlling the tornado with hot and cold symbols, you can cause more Wilds and extra goodies to appear. RTP for this slot machine is calculated at around 93.00% in review.
Why Play Tornado: Farm Escape Slot Machine?
Tornado: Farm Escape is designed as pictures from a children's book. A farm story is always a favourite for some cute adventures and fun shenanigans. But now, this time, it has an even crazier situation growing on. A massive tornado is tearing through the barnyard. It is up to the animals and the player to find all of the money before it flies off to who knows where. Several other possessions that belong to the farm must also be recovered along the way. Collecting these will be your way of finding these lost items and bringing them back to the farm.
When the reel grid opens up, you will be given a bird's eye view of the whole farm estate. The clouds and the whirlwinds from the tornado will be encircling the entire screen. It is from this perspective that the symbols will arrange themselves and will spin around to reveal new combinations. As mentioned earlier in the review, the symbols are based on different possessions found in the house on the farm. This can be from radios to furniture, to suitcases. The animals themselves will also act as symbols. All of which pull off funny faces and cartoonish expressions.
Benefits of Playing Tornado: Farm Escape Slot Game
Tornado: Farm Escape has a lot of unique mechanics that can fit into the theme. For regular winnings, you can proceed to use the normal method to earn combinations. Place a deposit to spin the reels and try to land three of the same symbols in a row. Score more in a payline combo to earn yourself a bigger prize. A random promotion will also be active at any time during the spins. You can use these features to increase your chances of winning or grant bigger rewards in the long run.
The Paytable
The paytable can be viewed by accessing the in-game menu. This menu can be used to see what each symbol in the game is worth and how many are needed for specific combos. If you change the bet you have, this will also affect the payout values. The minimum bet you can make in this game goes down to a total of 0.20. The maximum bet you can place goes all the way up to 200.00. Make sure that you check out the currency used in different versions. Canadian Dollars will be used in Canada. Here is what you can win:
| | |
| --- | --- |
| Symbol Description | Symbol Value (3x to 5x) |
| Stool, Boots | 5 – 60 |
| Radio | 5 – 70 |
| Chair, Suitcase | 10 – 80 |
| Chicken, Sheep | 15 – 200 |
| Pig | 15 – 300 |
| Horse | 20 – 500 |
| Cow | 20 – 700 |
Bonus Features of Tornado: Farm Escape Casino Game
The bonuses have some unique features that make it include more interactivity than other free online slots. Most of which can be used by either activating special symbols or letting them trigger at random. The first symbol you can use is the Wild symbol. This acts as a substitute for all other symbols except for the Scatter. This means that you can fill in gaps for possible combinations. The Wild symbol can connect to a different feature. This is the one that can trigger at random.
The Wild Storm activates at random during any spin of the game. When this is triggered, the thundercloud will appear on the outer position of the reels. The thundercloud will move from one segment of the reel to the next. It will turn the symbols there into more Wilds. After the cloud dissipates, the winnings will be accumulated to give you your total winnings earned from the Wild.
The Tornado bonus round can be triggered by using specific symbols in specific placements. The Hot symbol will appear on the first reel. The Cold symbol will appear on the last reel. When both symbols appear, this will cause the raging tornado to tear through the reels. It will pick some symbols and turn them into higher-valued ones. This can cause more winnings to appear. The tornado bonus round will end when the tornado can no longer pick any more symbols up. All rewards will be collected and credited to the player.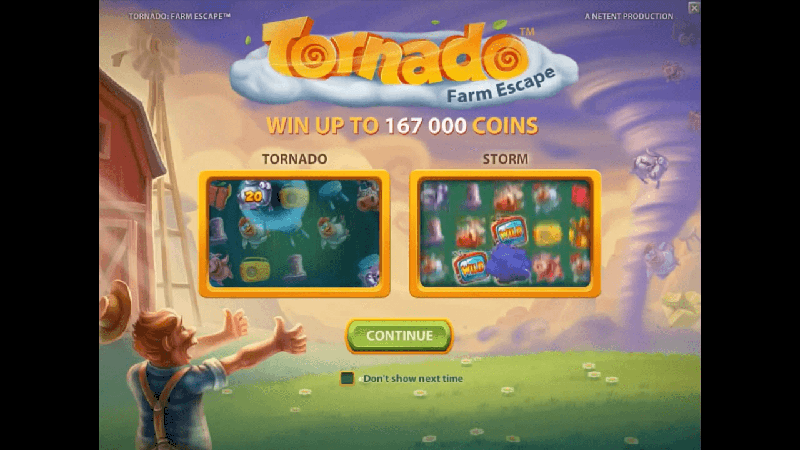 Tips and Strategies
These bonuses can be where you collect many of the big wins. However, the only one you can control is the Tornado bonus. Try to aim for the Hot and Cold symbols so you can trigger these unique bonus round. You can find many high-value combinations once the event has been triggered. The Wild Storm bonus will happen at random, but you can always save your bigger bets for when it is more likely to happen. The Wild symbol will always be there to offer you more chances of scoring.
If you ever want to see for yourself how these bonuses work, you could always try free play. The free slot no download version is fully available on the direct site of NetEnt. You can also find the free demo on an online review site such as this one. The main benefit of this demo is that you can play without spending any real money. There is no need to register with any online casino. This gives you every opportunity to practice the game as much as you want. There is no need to worry about losing any of your finances.
Software Provider NetEnt
NetEnt is also known as Net Entertainment. They are one of the most recognized figures in the world of online gambling. They produce content that is entirely focused on creativity and innovation. They aim for better gaming for everyone and have worked towards this goal for the past 20 years. They have formed many corporate connections that have given them the correct resources to make such amazing games. They make sure that they are constantly aware of the times to offer growth in areas where it is most important.
Conclusion
As well as having impressive visuals, the bonus rounds make for some of the most entertaining content out there on the market. The cutesy look of the game makes it seem like it is a simple slot machine. In actuality, it has the added challenge of combining two symbols to make a graphically stunning animation that brings you nothing but benefits. If you ever want to earn more chances to win, keep an eye out for that Wild Storm. You can win big prizes if you save your bets for the right change of wind.
Frequently Asked Questions about Tornado Slot Machine Free Play
Can you play Tornado: Farm Escape for free?
The free demo can be found on NetEnt's official source of info. You can also find this demo from many online review sites. 
What bonuses does Tornado: Farm Escape have?
Use the Hot and Cold symbols to generate a tornado and create higher-valued symbols. The random Storm can create more Wilds. 
Can you play Tornado: Farm Escape for real money?
Find many recommendations from an online review. Look for online casinos that have connections to NetEnt games. 
What other games have been made by NetEnt?
NetEnt has a lot of good examples of great games. Starburst is their most popular title, along with new games like Reef Raider and Dead or Alive.