Home

/

Haunted House slot
Haunted House Slot Machine Free Play
Bonus
Wild Symbol, Scatter Symbol, Autoplay Option, Multiplier, Bonus Game
Haunted houses may be full of vampires, but you can be sure that they have hidden treasures too. Haunted House slot by Playtech is proof of that. This classic 3-reel slot offers quite nice payouts, especially if you find the "garlic" symbol. If you are interested in vampire-themed classic slots, we highly recommend Haunted House online. It is the perfect game for players from Canada. As always, play the slot game for free and decide for yourself!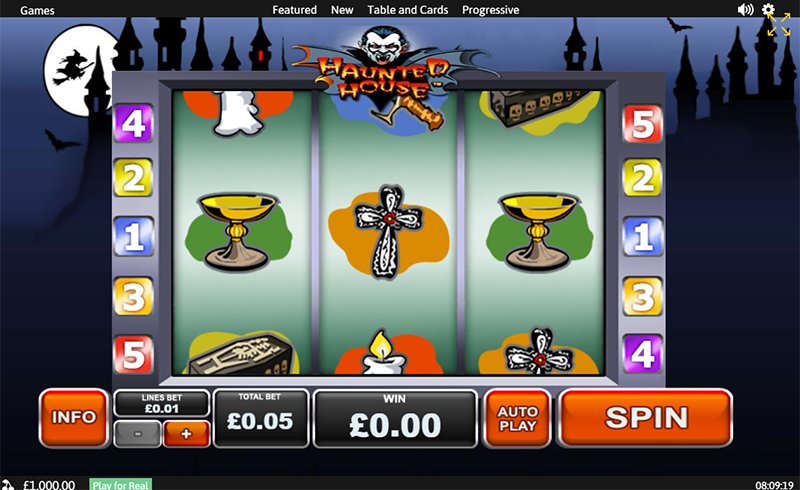 Haunted House Slot: List of Features
It may look like an old casino game, but the Haunted House slot machine was actually released in February 2013. However, while it is not that old, it is also a game developed with Flash. There is no HTML5 version. You can still play the game without a download and on mobile, but only on Android devices. iOS devices (iPhone/iPad) won't support it.
The reel and line numbers are fixed. There are 3 reels and 5 paylines.
The Haunted House also falls into the category of "penny slots" because you can play it for as low as 0.05 coins per spin (minimum bet). The maximum stake per spin is 50.00 coins.
The game offers 96.71% RTP and high volatility. In other words, the payout frequency is low, but the payouts can be quite big.
The big win amount (maximum payout you can win in a spin) is 1.800 coins.
There are no special symbols or bonus rounds. This is truly a classic casino game.
Should You Play Haunted House?
This is a difficult question to answer because Haunted House slots is not a game for everyone. We are used to seeing a large number of bonuses, jackpots, and special symbols in modern online slot machines. However, there was a time when none of this existed, and the Haunted House slot is a game from those times. It has no special symbols, jackpots, or bonuses. All you have to do is place identical symbols next to each other. There are many Canadian players who want this kind of gameplay because while classic slots lack some modern features, they offer simple rules, high volatility, ideal payout frequency, and satisfying rewards. If you expect these from a slot, Haunted House will be an ideal choice. But if graphics quality, special symbols, and bonus features are more important to you, we recommend checking out other Playtech games. Our free slot no download collection has lots of them.
Haunted House Slot Paytable & Bonus Features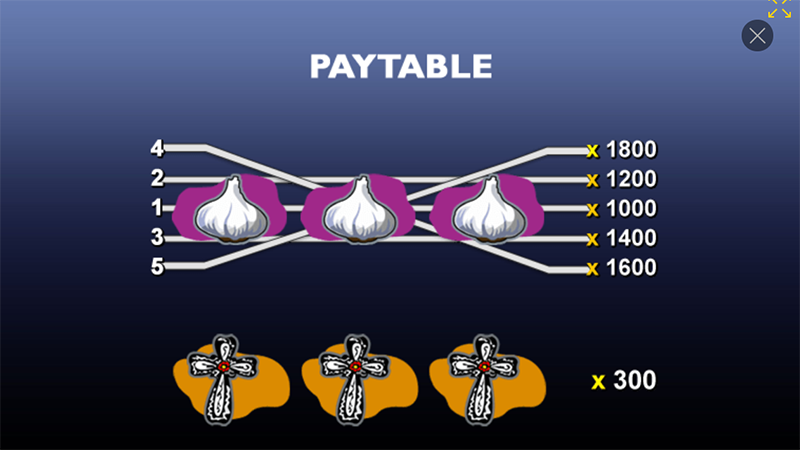 First things first: Haunted House slot machine does not have any special symbols (wild & scatter) or bonus features. This may come as a surprise considering the numerous bonuses that modern online slots have, but the vast majority of games in the classic slots category do not have such features. There is only one thing you have to do in the Haunted House casino game: place three identical symbols next to each other. Moreover, this is your only option. You cannot place two, four, or five symbols. Since the number of reals is limited to only two, you must land three symbols to qualify for a payout.
We'll share the paytable below, but first, let's talk about the exception to this rule. "Garlic" is the only symbol in the game that pays without being tied to a certain number. You can qualify for a payout with 1, 2, or 3 garlic symbols, and if you have placed 3 symbols, the payout varies depending on their position. For example, 3 garlic symbols that you place on the fifth line pay 1,800 coins. You can win 1,200 coins from symbols on the second line. These combinations allow you to win between 1,000 and 1,800 coins with three garlic symbols.
Now we can start talking about the paytable. The Haunted House slot has a standard and fixed table. Each symbol set has a certain payout value, which in no way changes. In other words, symbols always pay the same amount regardless of your stake, at least in the demo version. (This may differ if you are playing for real money: be sure to check the paytable.)
There are a total of 6 symbols in the game, and each one is illustrated with pictures inspired by the theme: daggers, coffins, candles. Playing card symbols are not available. You can view the paytable by clicking the "info" button in the lower-left corner of the interface. We share this table below to make your job easier.
| | |
| --- | --- |
| SYMBOL | 3x PAYS |
| Garlic | 1.000 – 1.800 |
| Candle | 50 |
| Chalice | 75 |
| Dagger | 100 |
| Coffin | 200 |
| Cross | 300 |
Haunted House Slot Machine Tips & Tricks
While playing the free slot version of this game on this site (or trying your luck for real at casino sites), use these tips:
The game supports the "auto-spin" feature, and since there are no special symbols and bonuses, all you need to do is spinning the reels. Activate this feature, so you don't have to click the "spin" button every 5 seconds. This feature can spin the reels automatically up to 99 times.
The free play version will tell you everything you need to know, so start with it. It has the same rules and payouts. By playing it, you can find out what this game really offers without taking any risk.
Using a promotion will be the best thing you can do when playing for real money. With the right bonus, you can spin the reels for free or get a bankroll that will help you to play more. Check the recommended online casinos on this site to find the best bonuses.
About the Provider: Playtech
Playtech was founded in 1999 and is one of the oldest companies in the iGaming industry. You have probably heard this name with superhero-themed slots because Playtech has owned Marvel and DC Comics license rights for many years. There was a slot machine developed for almost every superhero. Today, Playtech is known for its delivery platform ONE and its mythology-themed online slots. Age of the Gods series, for example, has a worldwide reputation in this regard. In other words, classic slots are not the only product the company has developed. Playtech offers hundreds of casino games in its collection, and you can be sure that there is an option for you too.
Discover the Treasures of the Haunted House Online
Haunted House slot offers fast gameplay, amazing RTP, high volatility, and remarkably simple rules. This game shows how fun and profitable classic slots can be, and it deserves to be played for that reason alone. As always, try it and see for yourself: you can play for free right now without a download. If you like what you see, continue your adventure at an online casino for real money!
Frequently Asked Questions about Haunted House Slot Machine Free Play
How can I play the free demo version of the Haunted House online slot?
Simply by clicking the "play now" button on this page. The game will launch on your browser (no download required), and you can start playing without registration.
What is the bonus feature of the Haunted House slot machine?
The Haunted House slot machine is a classic slot with 3 reels and 5 paylines. Like many other games in this category, it does not have a bonus round and/or special symbols.
What is the best online casino to play the Haunted House slot for real?
There is no single online casino that is "best" at everything. We picked multiple online casinos to play this game with the best bonuses, and at least one of them will be the right option for you.