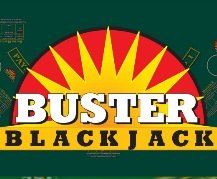 Buster Blackjack is a work of NYX Gaming and belongs to the "Felt" series. This series is known for its ultra-modern interface, ease of use and innovative side bets. All of these apply to Buster Blackjack too; the game is made with HTML5, good looking and very easy to understand. Thanks to the HTML5, it supports all mobile platforms natively. You can play on all devices running iOS, Android, Blackberry and Windows Mobile with touch-optimized controls.
The game uses the classic ruleset and adds an interesting side stake to the gameplay: you can bet that the dealer will bust, as the game name suggests. "Busting" is a term used to describe someone exceeded 21 points and lost the round, this also becomes a side bet in the game. As always, no download or registration needed to play. Both free and real money versions are available. In the latter, you can win as high as 100.000 coins.
How to Play Buster Blackjack Game?
When you first load the interface, the paytable is displayed on the screen. You can view it anytime you want by clicking the game's menu. Click the "play" button to skip this screen and see the main interface. There are 6 poker chips at the bottom, which represent your wagers. There are also 3 betting circles, with small circles on top. These are for placing the wagers and the side wagers. You can play on all of them at once or choose only one to play.
Placing a side wager is not mandatory, but if you want to qualify for the extra payout (which we recommend), you must put a chip onto the smaller circle too. To start a free or real money version of the Buster Blackjack game, place your wagers and click the green colored "deal" button.
Click repeatedly to place more than one coin and increase the wager. Your total stake amount will also be displayed over this button. You are playing the casino Buster Blackjack game against the online virtual dealer, so the goal is simple: reach a total of 21 or just higher than the dealer. You must not exceed 21. Otherwise, you will lose the round. Each card has a specific value: Aces are 1 or 11, face cards are 10, and all other cards are worth of their pip values.
At the beginning of the round, both the player the dealer will get 2 cards, but one card one of the latter will be visible (hole card). If you manage to get a total of 21 with the first 2 cards, you just got a Buster Blackjack casino entertainment and won the round. If not, you will have 2 options: hit or stand. Hitting means that you want another card and standing means no more cards are needed.
Which option to choose depends on your hand total; for example, if you have a total of 20, it is, of course, best to click the "stand" button. As a general rule, keep clicking the "hit" button until you have 17 points or higher. Depending on your total value, there are 3 more options available: split, double, insurance, and surrender.
Split: You can only split if your 2 cards are of the same suit. A split hand will be treated as two independent bets, and you are asked to play both of them at the same time.
Double: Doubling is only available if you get a total of 9, 10 or 11 points with the first 2 cards you get. It means putting a second wager to the table, which is equal in size to the entry stake. Use this option only if you are confident of your hand.
 Insurance: This is a side bet against yourself. You bet on that the dealer has a BJ or not. If you are correct and lose the round, you get half of your wager back. Taking an insurance is rarely recommended because the odds of the dealer having a BJ is very low. Consider surrendering if you think you are going to lose the round.
Surrender: You are surrendering and forfeiting the round. This is still a loss, but you get half of your initial wager back.
Don't forget that the dealer will continue to play whichever option you choose. Although he is also trying to beat your total or reaching 21, he must stand at 17. At the end of the round, the hands will get compared if nobody busted (exceeded 21), and the one with the higher points wins the game. The payment will be made according to the paytable, which is:
| | |
| --- | --- |
| Hand/Total | Odds |
| Blackjack | 3 : 2 |
| Insurance | 2 : 1 |
| All Other Combinations | 1 : 1 |
The "Busting" Side Bet
As we mentioned above, the side bet is about whether the dealer will bust (exceed 21) or not. It is completely optional, but the payouts are incredibly higher, and if you want to take a chance at winning 100.000 coins, you should place a side bet too. The dealer busts more than often since he is forced to draw unlike yourself, so the winning odds are quite high. Buster Blackjack casino game side bet wins when the dealer busts; the payout depends on how many cards he busted:
| | |
| --- | --- |
| Card Count / Player Hand | Payout |
| 8 With Player Blackjack | 2.000 to 1 |
| 7 With Player Blackjack | 800 to 1 |
| 8 | 250 to 1 |
| 7 | 50 to 1 |
| 6 | 18 to 1 |
| 5 | 4 to 1 |
| 3 or 4 | 2 to 1 |
Dealer busting with 3 or 4 cards happen extremely often, and while the odds are low, you can win up to 100.000 coins with this side bet.
Betting Options & House Edge
The betting range is fixed and can be either 0.10 – 0.50 – 1.00 – 5.00 – 10.00 or 50.00 coins per round. The minimum bet required to enter the game is 1.00 coin. The highest bet you can place is 500.00. However, these values can be changed according to the online casino. The house edge is very low: %0.37. However, this value is based on an optimal playing session with the usage of correct Buster Blackjack casino strategies.
Buster Blackjack Basic Strategies & Tactics
The basic strategy is to stand if you have 17 points or higher. This rule applies to the casino employee for the reason that your chances of busting become higher at this point. Always remember this rule and use it for all BJ games and variants. Depending on your hand or total points, you can choose between the following strategies: 
| | |
| --- | --- |
| Total Points | Best Move |
| 8 or less | Always hit |
| 9 | If the dealer has 3 – 6 points, double down. Otherwise, hit. |
| 10 – 11 | Double down |
| 12 – 16 | Stand if the dealer has 6 points or less, hit for 7 points or more |
| 17 or more | Always stand |
If you are unsure to split your hand or not, refer to this table considering the Buster Blackjack online game:
| | |
| --- | --- |
| Cards | Best Move |
| Ace and 8s | Always split |
| 4, 5 and 10 | Never split |
| All other pairs | Split if the dealer has 6 points or less, do not split for 7 points or more |