Home

/

Triple Pocket Holdem Poker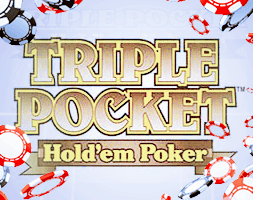 Triple Pocket Holdem Poker
Triple Pocket Hold'em Poker is one of the online poker games in which the player has to use two pocket cards together with five community cards to beat the dealer with a winning hand. It is a kind of the online Texas Hold'em Poker with a bit different rules.
Crucial Instruction to Play Online Poker
This game is one of the online poker versions which involves five community cards and three sets of two pocket ones. It is recommended to pick the pocket cards which you want to keep in order before seeing the community ones. This way, you will get the best chance to get the strongest hand to beat the dealer. Let us talk about the steps:
Select your bet level with the chips at the bottom left-hand corner. Available bets range from £1 to £200.
Click on the Deal button and two cards will be shown. Keep them or pass them to the dealer.
The player can keep first or second hands by clicking the 'Hold' button if he thinks that they are enough competitive.
Importantly that is only the decision making a part. The turn, flop, and river are laid out in the centre of the table in a single deal, and there is no betting.
Hands are automatically compared, and you will be paid out of odds of 1/1.
The Payouts in Poker
Let us know about the payouts in Triple Pocket Hold'em Poker. The payouts involved in this game are 50:1 – royal flush, 20:1 – straight flush, 10:1 – four of a kind, 4:1 – full house, 2: 1 – flush, 1: 1 – straight, two pair, three of a kind, and one pair wins against the dealers. The payouts are giving you another advantage for playing the game in the online casino. The most a player can lose in this game is the amount of his bet while he can win up to 50 times of bet. A player does not need to win the majority of this in the long run.
More Information
Some special features or quirks are involved in this game such as chips and help. For chips, choose the arrows on another side of the chips to enhance or reduce the denominations. To get help, choose the question mark in the upper left-hand corner of the screen for all types of instructions you require to play this. By making appropriate strategy, the player can win this. The best strategy is to hold a set of pocket cards only if the two of them are a pair, consecutive cards, and the same suit.
Consecutive cards – could lead to a straight
A pair – it is already a good hand, and the community cards can make it better even
The same suit- could lead to the flush
The game is available at Microgaming powered casinos, and the player has to play against a casino dealer. You can browse the Internet to acquire more information about this.