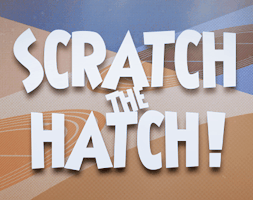 This is a scratch game available on Online Casinopolis. It is developed by NextGen, and an interesting form of scratch that will have you holding your breath the entire time you play it. The game is available on the online casino and is quite easy to play even for beginners. It requires a single player and is, therefore, a great option for when you are alone and either bored or would like some "alone" fun.
Playing Scratch the Hatch
It is a 3×3 grid made of nine hatches. Beneath the hatches are different amounts of money. When you scratch the hatch, an amount appears. If you click on all the hatches and the same amount shows up three times, then you win that amount of money. When an amount showers twice or thrice, the color on the two amounts changes to indicate it.
Just below the nine grid hatches is another hatch of a slightly different color. The hatch also has an amount beneath it. If you click on the hatch, the amount beneath it is the amount that will be multiplied by the amount you won on the 3×3 grid. The final total is the amount that you will have won. Once you have won, you are paid automatically. The maximum amount that can be won is 50,000 Euros.
Autoplay
The game has an autoplay option for 10 games per round.
To set up the autoplay, press the auto play button and then press play.
The hatches will be turned automatically and the multiplier will also be turned.
If you win, then your payment will be sent to you automatically.
The number of remaining rounds will also be demonstrated so that you are aware.
When you want to disable the autoplay mode, you will press the autoplay function again, and the function will automatically stop.
Verdict
This game is as easy as they get and will, therefore, be a fun way to pass time while you get paid. The catch is to be able to get the large amounts beneath the hatches and an even greater multiplier. The game also fully refunds the player in the scenario that it malfunctions and the player cannot not keep playing. Any amounts won before the malfunction will also be remitted to the player. All in all, the game is pretty decent and worth trying out.