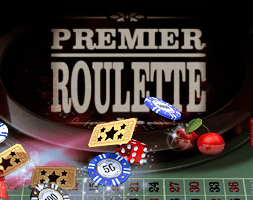 Premier Roulette (PR for short) is one of the oldest online roulette games around. It is developed by Microgaming, the pioneer of the casino games industry. Because it is an old game, the interface does not have a very modern look, and mobile device support is also limited. It only works on devices that support the Flash platform. Even on these devices, it is a bit difficult to play because it is not optimized for touch controls. But PR offers a very important advantage that is not found in any other game: French rules.
Speaking briefly about what this is, the roulette game is divided into two basic categories: American and European. The European one is more advantageous. However, the European version also has a sub-category within itself: La Partage. This variant, which uses the "en prison" rule system, gives the advantage to the player the advantage and reduces the casino edge to 1.35%. Even in European roulette, this edge is 2.36%, so French version makes a huge difference. It's hard to find this particular version even at land-based casinos. For this reason, PR by Microgaming is a very special game: You are unlikely to find any other online game that uses this rule system. You can play it both for free or real money.
Extra Bets in Premier Roulette
In French Roulette, you have all of the classic betting options. The interface is a bit complicated, but it does not take long to get used to. At the top of the screen, there is a wheel and the statistics section. In the lower part, there are betting options and control buttons. Look carefully at the lower left side of the interface: You will see 3 new bet options. These are available only in La Partage rule system, and each one has a fairly high RTP rate. You can see the explanation of these additional bets in the table below:
| | | |
| --- | --- | --- |
| Name | You Are Betting On: | Payout Ratio |
| Les Orphelins | 1,20,14,31,9,17,34,6 | 36 : 1 |
| Tiers Du Cylindre | 27,13,36,11,30,8,23,10,5,24,16,33 | 34 : 3 |
| Voisins Du Zero | 22,18,29,7,28,12,35,3,26,0,32,15,19,4,21,2,25 | 25 : 12 |
As you can see, you can bet on many numbers at the same time and get a very high payback rate. It is also worth noting that other classic betting options (i.e. number, range, color and odd/even bets) are still valid. The betting range is between 0.25 and 200 coins. After you place your bet, click the "play" button to start the game. The "expert" button you can see on this screen also allows you to see some additional options. If you are an experienced player, we recommend you use this option.
Payouts
The payout table for PR does not differ except for the additional betting options mentioned above. You can look at the table below for other types of bets and payouts:
| | |
| --- | --- |
| Bet Type | Pays |
| Straight (1 number) | 36 to 1 |
| Split (2 numbers) | 17 to 1 |
| Street and Trio (3 numbers) | 11 to 1 |
| Corner (4 numbers) | 8 to 1 |
| Line (5 numbers) | 5 to 1 |
| Dozen / Column (12 numbers) | 2 to 1 |
| All others | 1 to 1 |
Premier Roulette is a game that you absolutely have to try because this special variant is hardly ever found. We advise it to both beginners and professionals.