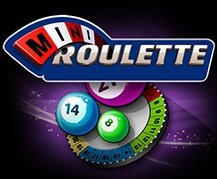 NetEnt is mostly known for its slot machines, but they develop table games too. Mini Roulette is a good example of this category, and it is really "mini." While following the classic ruleset, it doesn't contain all of the options.
The wheel also has only 12 slots, instead of 37/38. It is designed specifically for mobile devices, it has a very small interface and supports iOS/Android/Windows Mobile platforms. You can, of course, play from your PC too; all versions are available for free and without a download.
If you are a beginner or looking to spend your time while on the road, this will be a perfect option. However, it doesn't represent the "real" gambles, and the maximum payout is only 500 coins.
Mini Roulette Casino Game History & Rules
Roulette fascinated mathematicians for a very long time and finally, in the 18th century, Blaise Pascal invented this gamble. The wheel is designed to be a perpetual motion device at first and converted into a game afterward.
There are records that people were playing roulette games at casinos in the 18th century. Well, by people, we mean mathematicians of that era. There are 37 numbers on a wheel, and "0" is the casino's number. Statistics show that with this distribution, the casino always holds the advantage – it is impossible to develop short-term strategies.
The game became famous in America during the 19th century. Casino owners added one more slot to the wheel to increase the house advantage: 00. That is why there are 2 versions; the American one that has 38 numbers on the wheel, and the European one that still uses only 37 numbers and provides higher odds.
Undoubtedly, this is a game of luck, and you are betting on the outcome although there are many possible outcomes and lots of betting options:
Straight – a single number.
Split – on 2 adjacent (8-9 for example).
Street – on 3 consecutive (7-8-9 for example).
Square – on 4 that meet on one corner (10-11-13-14 for example).
Six Line – on 6 consecutive (22-23-24-25-26-27 for example).
Trio Bet – on a layout which involves at least one 0 (0-1-3 for example).
Basket Bet – on 0-1-2-3
Top Line Bet – on 0-00-1-2-3 (available only in American roulette).
1 to 18 (19 to 36) – on the result within these limits.
Red/Black – on the correspondent color.
Even/Odd –on whether the result will be even or odd.
Each betting option has a different payout, depending on the probability of that outcome. For example, straight bets pay the most because the possibility is very low. Red/black or even/odd bets have a much higher chance, which is why their payout is lower.
How to Play Mini Roulette Casino Game?
As we mentioned above, not all of these betting options are available. You can wager only on:
0 to 12.
Even/odd and red/black.
1 to 6, 4 to 9 and 7 to 12 outcomes.
This is a casual game, and all outcomes pay 2:1. Start with placing your stake(s) by clicking on the poker chips located on the left side of the screen. After that, click on the outcome you want to place your wager. The whole interface looks like a table. You can bet on more than one outcome. Keep clicking if you want to raise your total wager. Lastly, just press the "spin" button.
You will see a second screen, which the roulette wheel spins. If you activate the "bunny" mode, there will be no animation and only the outcome will be announced on screen. If the outcome matches your bet, you will win the round. If not, you will be offered 3 options:
Rebet: Start another round with a different wager.
Spin: Start another round with the same wager.
Clear: Clear the table and all bets.
Mini Roulette wheel contains only one "0", but it is neither European nor American. The game has its casual ruleset. That is why the usual strategies and tactics won't work here; yes, it's all about pure luck.
Mini Roulette Bets & Wagers
The betting range changes whether you are playing the demo or the real-money version.
Free Version Betting Range:
Minimum/Maximum wager: 1/10.00 coins.
Maximum Payout: 100.00 coins.
Real Money Version Betting Range:
Minimum/Maximum wager: 100.00 coins.
Maximum Payout: 500.00 coins.
There are no bonuses or side bets in Mini Roulette. Although, it is possible that the online casino you are playing at may offer extra bonuses and bets.
Odds & Customary Payouts
You can refer to this table for the odds and payouts of an outcome:
| | | |
| --- | --- | --- |
| Bet Name | Payout | Odds |
| Straight | 35 : 1 | % 2.7 |
| Split | 17 : 1 | % 5.4 |
| Street | 11 : 1 | % 8.1 |
| Square | 8 : 1 | % 10.8 |
| Six Line | 5 : 1 | %16.2 |
| Trio | 2 : 1 | %32.4 |
| Basket | 2 : 1 | %32.4 |
| Top Line | 2 : 1 | %32.4 |
| 1 to 18 | 1 : 1 | %48.6 |
| Red/black | 1 : 1 | %48.6 |
| Even/odd | 1 : 1 | %48.6 |
| 19 to 36 | 1 : 1 | %48.6 |
The house edge is %2.70 in the European version and %5.26 in the American one, which is why the European one looks far preferable.