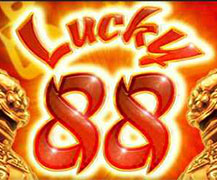 Lucky 88 Slot Machine Free Play
Bonus
Wild Symbol, Scatter Symbol, Autoplay Option, Free Spins
Chinese slot games are immensely popular among slot players since they have appealing themes along with a serving of unique symbols. Lucky 88 is also one of such Chinese-themed slot games developed by Aristocrat. As the name rightfully suggests, the player needs to be lucky. The sacred number-88 in the Chinese culture has also a role of destiny which tests the fortune of a player. This is one of the few slot game which players thoroughly enjoy due to its captivating graphics.
Vibrant and Colourful Symbols
The slot machine of Lucky 88 has 5 reels along with 25 paylines which the player finds quite riveting. The slot game has a red backdrop along with radiating orange rays which provide a divine look to the game. The player can even set the bet amount ranging from 0.01$ to 4$ and can only wager for a single coin per payline. The slot machine comprises of prominent symbols like swans, golden lions, golden conical towers, Chinese drums and gold pagodas. In addition, these high-value symbols, general card representations having low-value symbols are 9, 10, A, J, Q and K. Besides all these symbols present in the radiant slot machine, there are also wild and scatter symbols which add extra benefits while playing this slot game.
The person with a long drooping mustache who presumably is a Chinese emperor is the wild symbol which appears on the slot machine. This wild symbol can replace all the other symbols mentioned above and multiply the wins. Another special symbol is the scatter symbol which is a Chinese red lantern which actually activates the bonus game depending on the number of times this symbol appears. If this scatter symbol appears more than three times on the slot machine, the bonus game actually gets triggered. Although this slot game is a dearth of music during its gameplay, sound effects do accompany whenever the reels stop after a spin or if the player wins the slot game.
Free Spins Feature
This slot game provides free spins with two options: Free Spins with extra choice and Free Spins without extra choice. Both of the choices are expanded below with their further choices :
Free Spins without extra choice: If the scatter symbol lands thrice or more on the slot machine, the player can choose between 3, 10 and 20 spins where s/he will be given wild multipliers of 18x or 88x, 8x or 38x and 5x or 18x respectively.
Free Spins with an extra choice: If the player agrees to pay more during betting, s/he gets a choice between 4, 8, 15 and 25 spins wherein s/he will be given wild multipliers of 88x, 18x or 88x, 8x or 38x and 5x or 18x. More the scatter are landed on this slot machine, more are the spins which get triggered.
Other Interesting Features to Look for
Lucky 88 also provides two other features which the player can enjoy with it. One of the features is where the player can click 'Gamble' button' which actually allows a new screen to open that the player can maximize the wins by selecting a correct color or anticipating the next card to be drawn. This is a risky feature since the player can lose all the winnings if guessed wrongly. This slot game constitutes of another feature which is the choice of dice where one can roll 8 dice thrice. This feature comes handy too if the player is too lucky. Finally, one can easily say that this slot game is entirely based on a person's luck as to what wins s/he can acquire through it. These two features are some of the add-ons which the player might be interested in too apart from the major features.