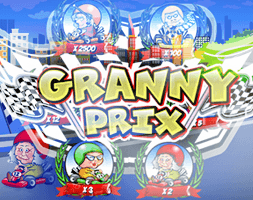 While grannies are the amazing and sometimes really fun because of their amazing stories from way back when imagining them racing against each other at super speeds isn't exactly how we would picture them. Microgaming, however, thought that producing a game that has that exact theme would make for a great thrill. And they were right. The game is quite exciting. Better news is that you can pay it on Online Casinopolis
Objective and Symbols of Granny Prix
The game is made up of different grannies wearing different colored helmets. The grannies are on go-karts, and their aim is to finish the race. The objective of the player, on the other hand, is to get three similar grannies on the 3×3 grid at the same time. If you are able to get three nannies of the same helmet, then you are in for some awesome prizes. Once you have paid and received your card, you shuffle and get the 9 cards. You are then required to scratch the cards one by one using your mouse to reveal the symbols. You can also choose to scratch the cards all at once.
How to Win
Each granny has a different amount of multiplier starting with a x2 multiplier, all the way to a x2,500 multipliers. Your payout is determined by multiplying your card value by the multiplier of the helmet color from which your winning combination was formed.
The granny with the yellow helmet is the one that has a multiplier of x2,500 and getting that one would mean a great payout for you.
The orange granny has a multiplier of x 100.
Since the game contains a multiple winning combination, your card value will also determine the amount you will receive at the end of the game. The minimum amount of bet deposit is 50 cents and the maximum bet is placed at $10. The prize you will receive will match the price on the paytable. The maximum possible win is $25,000.
This game is fun and very easy. You will not require a degree in rocket science to get the ropes. So, if you are bored and would like to try out something new, Granny Prix is a sure bet. Also, you can try it out for free then eventually play with real money when you are ready. The multiple winning feature means better chances of winning and who wouldn't want some free moolah for no effort? I know I would.