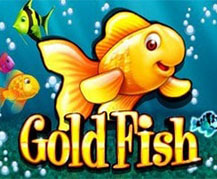 Gold Fish Slot Machine Free Play
Bonus
Wild Symbol, Scatter Symbol, Autoplay Option, Free Spins
Goldfish slot machine has 5 reels and 25 pay lines. This online video slot game has been developed by WMS Gaming. There is a large fish tank in the background with sunlight falling from above. Quite obviously, the theme is aquatic with symbols like a net, an underwater plant, a shellfish, a turtle, some beautiful deep sea creatures and finally fishes of different colors – red, green, purple, blue and gold. The goldfish is the wild in this game. Fish food is the Scatter.
Bonus Characteristics
The random fish feature, as the name implies will occur randomly before any spin. Many fishes of beautiful colors will jump into a fish bowl that will be displayed on the screen. What you ultimately get will depend on the color of the fish that has jumped in.
Gold Fish: Choose a bubble from the choices available. You can get 5, 8, 10, 15 or 20 spins along with a multiplier of 2, 3, 5, 7 and 10 respectively. The free online Goldfish slot will give you a consolation award of twice your wager in case you don`t win on any spin.
Green Fish: A fish tank having some bubbles in it will appear. Choose a bubble to get a prize which can be between 10 and 500 times the line wager. Usually, the bubble you choose allows you to gather all the bubble prizes.
Purple Fish: 3 air bubbles each carrying a number between 0 and 9 will be blown by this fish. This will form a three figure number which will be a multiplier in the Goldfish slot machine.
Blue Fish: You get between 1 and 3 Super Scatter spins. All matching symbols fetch prizes. You can have favorable combinations anywhere on the reels, not merely the dynamic pay lines.
Red Fish: Those of you who have seen the movie 'Finding Nemo' will find this very familiar. It looks like the Clown Fish from that movie. In the Goldfish Slot game, you have to make a choice between a treasure chest, clam or a castle to win a multiplier between 10 and 50 times. The funny and unique part is that one of the fishes will kiss the chosen item, increasing its value. A kiss from the Purple Fish increases the prize by 25 to 200 times whereas that from a goldfish doubles it. Prize value increases by 20 to 100 times in case of a kiss from a Blue Fish. A Green Fish kiss fetches an award between 5 and 50 times. But don`t get too greedy when you play Goldfish casino slot game. Only a maximum of 10 kisses is allowed.
Fish Food Bonus:
The five above mentioned bonuses were triggered at random. In contrast, the Fish Food Bonus is activated by the symbols on the reels. 3 or more such Scatters need to appear. It can also be activated by the Blue and Gold fishes.
Other attractions in this free online Goldfish slot game are Jackpot Party Progressive and the optional Gamble feature.
One of the Best Online Casino Games:
The fish are swimming without a care in the world. Their environment is serene and peaceful. You too can enjoy that by playing Goldfish slots for free without any cash deposit or real money. Gambling at this gaming machine can be a really rewarding experience.
Popular
Games
All games
WMS Slot Games — Play For Free Slot Machine