Home

/

Game Set And Scratch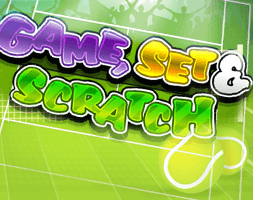 This is a tennis-themed, a colorful scratch game available on online casino platforms. You will find this one by Microgaming quite the thrill because it offers you two rounds of play with only one bet. However, while the gameplay may be simple, it will take a few moments before you can fully master how to get around it. In order to truly enjoy it, check out on Online Casinopolis
Playing Game, Set and Scratch
Round one requires you to "click to reveal" the tennis balls that have been provided in the interface to reveal the players. If you get three identical players, then you are warranted a payout. The players vary from amateurs to professionals. The different players have different values attached to them. Your payout will be the value of the player multiplied by the value of your bet card. To start playing, you press the "New Card" button below your interface. The + and – are used to either increase or decrease the bet amount you would like to place.
Round two will involve you watching as two players go head to head. If the ball falls on the court, then you win yourself some money. If the ball falls outside the court, then you have lost. In order to see the amount, you have received, you will have to scratch the reveal prize.
Bet Amounts and Prizes
Game, Set and Scratch is a low roller game with the minimum bet amount set at 50 cents. The maximum is $10. Depending on the player you revealed three times during the first round of it, the value is multiplied by your card value to determine your payout. The maximum possible payout is x20,000 of the initial stake.
The amount you receive from round two is less than the one for round one. The payouts are determined in a random manner and the maximum you can receive from this round is x100
Colorful, easy to play, two rounds for one bet and up to 20,000 times your amount!! These features make for a great way to entertain yourself and earn some profits. This game makes even more sense when you are a tennis fan or player. It is, however, imperative that you read through the interface to fully understand what does what to make your time seamless.