Home

/

Double Jackpot Poker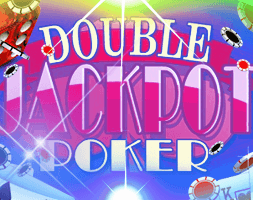 Double Jackpot Poker is one of the highest paying poker variation due to the special jackpots it offers to some winning combinations. With that in mind, look out for 4 Queens, 4 Kings, 4 Jacks, any Four of a Kind and 4 Aces for they are the winning hands that can land you a sweet jackpot in this game. This feature is unique and that is why it is my favorite video poker variation. If you find this appealing, then you will be overjoyed once you kick-start your gaming experience.
How to Play the Game?
Unlike draw poker, where you play against other casino players, this Real-time Gaming (RTG) production provides an arena for you to play against an automated dealer. To win, you need to have a hand that will have the highest value than that of the other players. To do this, simply follow the procedure below.
Select the amount to wager per hand
Select the number of hands you are willing to play. The lowest number you can pick is one while the highest number is 25.
Click on the Deal Button to kick-start the game.
Once the dealer gives you five cards, decide which cards you will hold and which cards you will discard. Once you have made this decision, click on the deal button.
All the cards you discarded will be replaced by new cards to form your final hand.
You only win if your final hand is similar to the winning hands available at Double Jackpot Poker
Winning Hands in the Game
As you play this game, you will notice that there are different hands, all having different values. The hand that has the highest value is the Royal Flush, while that which is ranked as the lowest is the Jacks or Better. In addition to these two, you'll also have other winning hands such as the straight, the flush, straight flush, two pair, full house and three or a kind.
Maximum/Minimum Bet
The minimum bet you can place is $0.05 while the maximum bet is $5.00. This betting range is friendly to all types of casino players. Therefore, it is not surprising that many online casino players find this game appealing.
The Gamble Feature
Once you land a winning hand, you can play this bonus round for a chance to double your wins. To win, choose a card of a higher value than the dealer has. If you take the one of a lower value than the dealer's, then you lose all your wins.
Tips and Tricks
Number of coins should be the highest
Try out the game free before betting real money
Avoid playing with money you cannot afford to lose
Now that you are conversant with Double Jackpot Poker, visit your preferred online casino and kick-start your gaming experience for a chance to win big.