Home

/

Cyberstud PokerOne on One Battle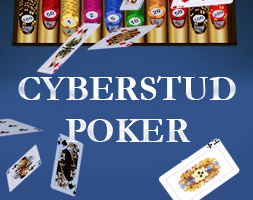 Cyberstud PokerOne on One Battle
This is not a classic looking pokie with a poker table. It was made by the famous game developer for the casinos the "Microgaming" company. In this gambling machine, a gamer is going one on one with a dealer on every hand. A playing screen looks like it was made for the blackjack game and it is set in the casino itself.
One on One Battle
Rules of this game are very simple. In the bottom side of a display, all the necessary functions are shown. To start a round after the cards are dealt, a bettor can press the "Call" button. If a gambler wants to start a new turn, he/she can click on the "DEAL" mark. When a gambler is sure that he/she cannot beat the dealer's hand, there is a fold button, and the next round can be started. Here are some general rules for this video pokie:
Ante will remain on the playing table until "Fold" or "Call" buttons are pressed.
When a "Call" mark is clicked, it doubles the ante.
To compete with a player, a dealer must qualify. To do that, he needs to have a combination of cards AK.
In case that a dealer doesn't qualify, a better will receive a Call stake, and ante will be doubled.
If the dealer's combination is valid, then the one on one battle is on. The strongest card combination is a winner.
Aces will be registered as high for the straight combo.
How to Beat the Dealer?
For each coming round, a gamer will see his cards first. After that, the dealer's first card will pop out. This is actually enough to estimate the scoring chances for each hand. When a player gets the cards, possible odds can be predicted. Of course, there is always a touch of luck, but in the most cases, a rough guess can be made. All the possible payouts are displayed in the table bellow.
| | |
| --- | --- |
| Hand Combination | Odds |
| Royal Flush | 999:1 |
| Straight Flush | 199:1 |
| Four of a Kind | 99:1 |
| Full House | 14:1 |
| Flush | 9:1 |
| Straight | 5:1 |
| Three of a Kind | 3:1 |
| Two Pairs | 1:1 |
| One Pair | 1:1 |
| Ace-King | 1:1 |
Get the Highest Prizes
This is a simple strategy pokie, and to win some big money prizes a gamer needs to follow basic tips:
Play more consecutive rounds to enhance the odds of winning
Search for the highest possible combination, because this will allow a bettor to get the highest payouts.
If a player is holding a strong combo, compete with a dealer.
Use the advantage of seeing the first dealers card. You already know your hand strength.
The theoretical return to a player or the RTP for this casino game is 93%, and the approximate chance of a win is 1 to 649,740. This is a medium to high volatility pokie with stakes range from 1 to 5$ for a single round. It can be played in demo version for free or for the real money.