Home

/

Blackjack Players Choice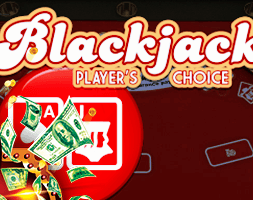 If you are a fan of the blackjack but would like to try something that is different, then this definitely the game for you. The rules are a bit different, but the thrill remains the same. The end goal is still the same as the conventional blackjack in which the player is supposed to form a hand that will be higher than that of the dealer, but no more than 21. Some have said the adrenaline rush in their system is higher when they deal this version. Developed by 1×2 Gaming, the player is usually given the privilege of calling a few shots. It is available online on Online Casinopolis
Playing Blackjack Players Choice
When you start playing, the machine will deal using 8 standard 52 card decks. The jokers are not used here, so they will be removed. Once the cards are shuffled, the machine will randomly pick 5 pairs of cards and arrange them face down on the table. The value of the cards is shown above the cards, but in a random arrangement, so you won't know which total belongs to which pair.
You will then pick one pair of the cards, and one card will be turned face up, so you see the value. If you do not like it, then you will have another opportunity to pick another pair for free. Once you do that, you will then pick a third pair that will belong to the dealer. You can then click on one card in the pair to show the value of one card in the pair and the information therein will help you make better decisions. The game will continue and only hit and standing are offered.
Placing Bets
In order to play this blackjack, you can bet with a minimum of $10 going all the way to $200 which is the maximum bet amount.
If you win, you will be paid in the ratio of 1:1.
If you and the dealer get an equal score, you will lose half the bet.
The game does not include other features common to blackjacks like splitting or doubling.
Verdict
It is important that you stay alerted throughout the game because you will need to pay close attention in order to make better decisions on which cards to play. This game needs you to think strategically and is played best when you are not in a hurry. Blackjack has a payout percentage of 98.37% which is lower than that of conventional blackjacks which are at 99.40%