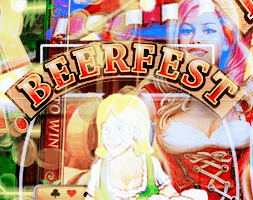 Have you ever played a scratch card game before? Maybe you have not played in a casino, but we are sure that you tried one of those famous "scratch-off" tickets. These games are "digital" versions of those tickets. In other words, you try to find the same 3 symbols on a card and win a prize. These games, also known as "Instant Lottery", are quite entertaining and even more fun to play than slot machines. The betting levels are so low that you do not have to worry about the budget. You do not need anything except luck because there is no tactic or strategy you can apply. If you're bored of traditional casino games, especially slot machines, scratch card games might be what you're looking for.
Beer Fest Scratch (BFS for short), developed by Microgaming, is one of the best examples of this category. As its name implies, the theme is about a beer festival organized in Germany. Tasty beers, pretzels, a cheerful festival environment and thousands of coins waiting to be won! BFS is easy to play, and the prizes are very satisfying. Moreover, there are 3 different options offered in one game.
3 Games in One
Indeed, when you start the BFS, you are asked to choose one of the three options. These are:
Match The Munchies: A cute waitress is holding a tray filled with a food. This food represents the symbol you need to find. If you scrape your card and find 3 of this symbol, you win.
Table Dancing: You are throwing a very heavy man with a mustache on the tables to dance. If the table remains intact until the dance is over, you win. If the table breaks, you need to try your luck again.
Beer All Around: This is a beer drinking contest, and you are asked to guess the winner. This is the best "price/performance" option by the way, which we will explain below.
As you can see, Beer Fest is not just a scratch card game. It has 3 different games inside, and only one really requires a card to scrape. The remaining titles are purely for entertainment. But there is an important detail here: The amount of the prizes do not change according to the game. For this reason, you can choose the option with the highest chances of winning. This option is "Beers All Around" because it offers an exact %50 chance of winning.
Bets and Payouts
Like other casino titles, you need to set your betting levels before you start playing Beer Fest. The minimum bet is 0.01 coins per card. There is no standard and fixed pay table. Beer Fest pays with multipliers. So the prize you win depends on the amount you bet. The highest prize in the game is 5,000 coins. There is no separate jackpot or bonus payout. BFS is a fun game that appeals to players from every level. Whether you are a newcomer or a professional, we recommend you to try it.