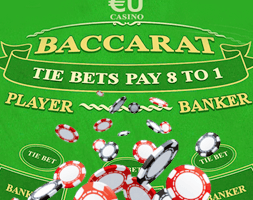 SkillOnNet provides some of the best slots and casino table games around, including classic favorites like baccarat. It's a classic game that pits the player against the dealer, and offers manageable bet range. Professionally done in green color, this baccarat table welcomes casual and new players, thanks to easy rules, decent graphics, and an opportunity to choose the betting limit.
Playing Baccarat by SkillOnNet
Available in real money and demo mode, this variation of blackjack offers basic rules, and buttons that are easy to read and follow. This should work for the first-time gamblers since there are only two basic decisions to make before cards are dealt- choosing a 'Bet' and clicking 'Deal'. Here, you need to predict which hand gets a value of 9, or near it. Just select the stake size, choose 'Player' or 'Dealer' and hit 'Deal'. If you make a tie bet, it pays 8 to 1. There is also a 'Re-Bet' feature, allowing you to make the same betting arrangement. Chip amounts range from 1 to 100.
Betting Information
There are betting limits available. You can choose from 'Standard', 'High Rollers' and 'VIP'. The Standard betting limit is recommended to casual and new players, where bets start at 1.00, and the maximum stake of 300. The VIP limit is also available for experienced and frequent players, with the minimum bet of 10.00, and a maximum one worth 1,500.00.
Strategies to Use When Playing
The game offers a free demo mode, which should be helpful for newbies who want to explore first this SkillonNet offering. To begin the entertainment, you must select the betting limit, based on your bankroll and skill level. Choose Standard if you are just starting out, and consider VIP if you are experienced, and have played this SkillonNet version before.
Bonuses and Features Available
For this game, tie bets pay 8 to 1, giving users the right motivation to explore this stake. As a basic baccarat version, it offers the basic features, including the 'Deal' and 'Re-Bet' buttons. The 'Re-Bet' button works for players who wish to make the same amount of bet, on the same spot.
Baccarat by SkillonNet is a straightforward game that is stripped of the usual exciting features and graphics. The game does not offer a jackpot, but it does not mean that this table game is not worth your time. It offers three betting limits to work with different kinds of players, with bets starting at 1.00 and a maximum bet worth 1,500.00. A free demo mode is also available; you can now test the game before you commit your bankroll for real money.