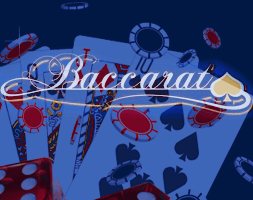 Elegance and simplicity of gameplay are two of the popular attributes of baccarat. The rules and objectives of the game are easy to remember, and the table set-up and the playing environment conjure images of sophistication and privacy. This is exactly what you will get from the classic baccarat game from RTG. Instead of the usual flashy graphics and elaborate table, individuals are treated to a simple table done in blue, offering everyone with 3 betting options- to bet on the 'Player', the 'Banker' or a 'Tie'.
How to Play RTG Baccarat
Available in practice mode and real money, this version from RTG offers seamless entertainment, using simple user interface. First-time users will immediately notice the 3 bets available- Player, Banker, and Tie. To start, you need to select the chips to bet, with chip values ranging from $1 to $500. Once the bet has been finalized, you need to click on 'Deal', and the system will deal the cards. Here are the combinations:
With three cards dealt by the player and the banker, the objective of the game is to get the score of 9, or a score close to that.
Cards from 2 to 9 get their face values, and an Ace scores a 1.
If no hand gets a 9, the hand with a score nearest that value wins.
If both hands get the same hand value, the game ends with a 'tie'.
Compared to other versions online, this version from RTG pays 9 to 1 for tie bets. In case a person decides to make the same betting arrangement, this online baccarat table also features the 'Re-Bet' button.
Bets range from a low $1, to a maximum $500. Other casinos may specify a different betting limit, so it's best to check first with the Terms and Conditions before playing for real money.
Use Facts about RTG Baccarat
This game offers a standard commission worth 5 percent on the player's winnings made on 'Banker' bet. If players decide on a tie bet, it pays 9 to 1. At the start of the action, 6 cards are dealt on the table, starting on the 'Player' side. After completing a round, the decks will be shuffled to ensure its randomness.
Gameplay is fast, and it offers players a history of the bets made, and this table is listed on the left side of the window. But if one wants to enjoy at a much slower pace, the game also allows anyone to customize its pace, to meet one's needs.