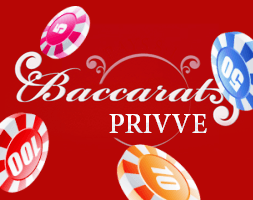 Online versions of baccarat are expected to deliver a convenient way of playing, complete with the usual betting buttons, a deck of cards, all neatly arranged on a table. In short, these games bring the physical tables virtually, allowing casual and frequent players the chance to explore the game, anytime. But thanks to new technologies and changing customer needs, some developers take development to the next level, fusing games with high-end graphics, and other visual elements. Expect these elements in Baccarat Privee HD, a fun and luxurious take on the popular casino option.
Baccarat Privee HD Gameplay
For its online version, Baccarat is available in different variants, offering various combinations of playing chips and different table limits. Chips are marked with different values and can be removed from the betting area by choosing 'Clear Bet' which is indicated by 'X'. This will forfeit all previously made bets. Aside from the use of these chips, there are other commands that can help make the gameplay easier. These commands are 'Deal', 'Re-bet', 'New Bet' and 'Full Screen'. Being a high-definition version of baccarat, it is only best when it's played in fullscreen.
To enjoy this production, a player must choose his stake, whether to bet on the 'Player', a 'Tie' or the 'Banker'. Keep in mind that each bet will pay differently. Once the chips have been allocated, clicking the 'Deal' button will start the game. The 'Re-bet' button helps bring back the same betting information.
Betting Limits & an RTP
Chips values, available on the table, range from 10 to 200 corresponding to a bet of at least 10.00, and a maximum one of 200. The amount of winnings will depend on the stakes made since each of them comes with a specific payout. If a 'Player's bet has been made, it pays 1:1, a 'Banker's one pays 0.95:1 and a 'Tie' pays 8:1.
As a high-definition production Baccarat Privée HD offers a premium way to enjoy this table game online. The table layout approximates that of a regular table found in many brick and mortar casinos. And when it comes to its theoretical return to player (RTP), players can get more from the 'Banker' bets, with an RTP of 98.99%. A bet on the 'Player' gives back 98.71%, and the one on a 'Tie' comes with an RTP of 84.25%. The system also allows players to share a snapshot of the game on Facebook or Twitter, making this game a truly social casino production.