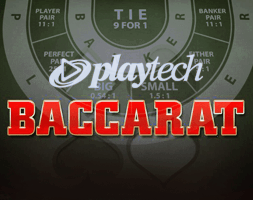 Among the casino games available online, baccarat is the easiest to explore. Thanks to its popularity, different versions are available, offered by top software suppliers and vendor. One leading production available online is Baccarat by Playtech, which showcases Playtech's commitment to premium gaming and customer satisfaction. This game follows the same basic objective- the individual is faced with three betting types. He can choose from a 'Tie', a 'Banker' and a 'Player' bet.
Game Basics
It's your choice to bet on either hand. Now, it's important that one's wager should be indicated before the system starts dealing the cards. Both the Banker's hand and Player's hand are given two cards by the dealer. Take note that faces and 10s are worth zero points while the Ace card is worth one point. The winning cards should have a total closer to or equal to 9. For each set of cards, the totals are announced. The chance of getting the third card depends on the total worth of cards. If either the Banker or Player gets a total from 0 to 5, then the third card will be drawn. However, if the one gets a total of 8 or 9, no additional card is drawn. If he gets an amount of 6 or 7, he can choose to stand on this total.
Betting Options & Strategy
Bets start at $1, and the maximum bet can reach $300. The betting limit may vary, depending on the chosen casino. When betting on the 'Tie', the game pays 9:1.
When you get the chance to try baccarat at online casinos, placing bet is simply done by clicking your choice hand to win. One strategy when playing is to avoid betting on tie option, as much as possible. Among the three, this option has the poorest odds. The best bet you can have is in favor for the Banker's hand. Since Banker bets have a higher edge over the other bets, an online casino takes 5-percent commission from the total banker bets to even advantage. Another thing to be avoided when enjoying baccarat is the use of Martingale betting system. In this system, the person doubles a bet after he loses his wager.
Baccarat offers a relaxing and interesting online casino experience with its simplicity and sophistication. And Playtech makes it more entertaining, thanks to its multi-player option, allowing players to chat with others online. Players can also customize the gameplay, from speed to the sound effects.