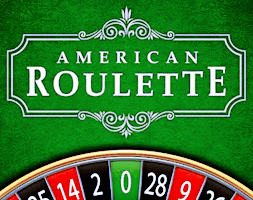 Online American Roulette is developed by NYX Gaming and follows the rules of… well, American roulette as can be guessed by the name. Roulette is a very popular casino game and has two main modes: European and American.
The difference between these versions is in the numbers: the American version contains one more house slot on its wheel. The wheel contains 37 numbers in total, and the 0 slot is always for the casino. American version adds one more house slot (00) to increase the edge of the casino; but other than this, they are both the same games.
American Roulette by NXY Gaming uses a simple and easy-to-use interface. It is not that attractive nor modern looking, but practical enough: even the beginners can understand the betting options and start to play in a very short amount of time. Unfortunately, it is also an old game and doesn't support mobile platforms natively.
Although you can play on your tablet PCS and mobile phone if they support the Flash platform, the controls won't be touch-optimized. American Roulette is available for free and without a download. Playing for real money is also possible, and you can switch between these versions anytime you want.
History & Rules of American Roulette
Roulette is a game invented by a famous French mathematician: Blaise Pascal. While working on a perpetual motion machine, he "accidently" invented the roulette wheel. Gambling was a popular hobby for the aristocrats in that era, and they loved the roulette.
The game gained interest from other mathematicians too; in fact, there are lots of books written about possibilities and odds of the wheel. To save you the time, we can sum them up: if the wheel is not rigged or does not have a physical defect, it is impossible to guess the outcome. This is because of the "0" slot on the wheel; mathematically, it always gives the advantage to the casino.
When the game was introduced to the US, casino owners decided to add another slot (00) to the wheel.  This way, they increased both their edge and the total slot count to 38. This is why the house edge is higher in the American version. To give specific numbers:
| | |
| --- | --- |
| Version | House Edge |
| American | % 5.26 |
| European | % 2.70 |
The rules are the same for both versions, and the only difference is the house edge.
In all versions, you bet on the outcome of the ball – where will it land on the wheel? Well, the betting options are quite high, and they all offer different payouts, based on the probability. There are 2 types bets: inside and outside. The betting limits are different for each type. As a general rule, outside bets always have higher betting limits. Inside bets offer lower limits, but their payouts are much higher.  Refer to this table for the betting options, their explanations, payouts, and probabilities:
Inside Bets

Bet Name

Winning Spaces

Payout

Probability

Straight

Any single number (0 included)

35 to 1

% 2.63

Split

Any 2 adjoining numbers (vertical or horizontal)

17 to 1

% 5.26

Street

Any 3 horizontal numbers

11 to 1

% 7.89

Corner

Any 4 adjoining numbers in a block

8 to 1

% 10.53

Five Number

Betting on 0, 00, 1, 2 and 3 (available only in American version)

6 to 1

% 13.16

Six Line

Any 6 numbers from 2 rows

5 to 1

% 15.79

Trio

Betting on 0, 1, 2 and 00, 2, 3 (available only in American version)

11 to 1

% 13.16
Outside Bets

Bet Name

Winning Spaces Betting

Payout

Probability

Red

On all red numbers

1 to 1

% 47.37

Black

On all black numbers

1 to 1

% 47.37

Even

On all even numbers

1 to 1

% 47.37

Odd

On all odd numbers

1 to 1

% 47.37

First Twelve

Betting on the first twelve (1-12) numbers

2 to 1

% 31.58

Second Twelve

On the second twelve (13-24) numbers

2 to 1

% 31.58

Third Twelve

On the third twelve (25-36) numbers

2 to 1

% 31.58

1 to 18

On between 1 and 18

1 to 1

% 47.37

19 to 36

On between 19 and 36

1 to 1

% 47.37
 As always, 1 to 1 payout means you receive the double of the wager you put onto the table. 5 to 1 payout means, for example, you get 5 times of your original stake. The bets must be placed before the dealer calls "no more bets." The player can stake on more than one places.
How to Play American Roulette Casino Game?
American Roulette by NYX Gaming is based on these rules and betting options too. When you first start the game, you will be asked to choose your minimum and maximum stakes from a table. It looks like this:
| | | | | | | |
| --- | --- | --- | --- | --- | --- | --- |
| Straight Up Maximum | Inside Bet Maximum | Outside Bet Maximum | 12 Number Outside Bet Maximum | 18 Number Outside Bet Maximum | Table Minimum | Table Maximum |
| 5.00 | 1.00 | 1.00 | 60.00 | 90.00 | 1.00 | 100.00 |
| 5.00 | 1.00 | 1.00 | 60.00 | 90.00 | 5.00 | 250.00 |
| 5.00 | 1.00 | 1.00 | 60.00 | 90.00 | 15.00 | 500.00 |
You are asked to, in other words, choose your betting limits beforehand. The free-to-play version comes with 500.00 complimentary coins, so we recommend choosing the second line if you are playing for fun. After the selection, the main interface will show up.
As you can see, it looks exactly like a roulette table. You can change the view if you like by clicking the "switch views" button located at the bottom right. To start playing, you need to place your bet(s) first. The poker chips at the bottom represent your wagers. They are 6 in total, and they all have different numeric values. Choose one according to the selection you made at the start and click the betting spots you like. As we mentioned above, you can place bets on more than one spot. Keep clicking to raise your wager for a spot. Your minimum and maximum bets depend on the selection you made at the beginning.
After placing a stake, other options will appear on the interface. These are:
Spin: Spin the wheel with animation.
Quick Spin: Skip the animation, instant spinning.
Clear Bets: Clear all of the bets on the table.
Undo: Undo your last stake.
Save Bets: Save your betting options for the next round.
Click the "spin" or "quick spin" button and wait for the ball. If the outcome is amongst your bet(s), you will get paid according to the paytable we shared above. At the upper right side of the screen, you can also see a horizontal table. This shows the last 15 results of the wheel for reference. To the upper left, there is a "table limits& payout" button. Click this to see both at any time. After each round, you can start a new one by clicking the "new game" button.
Minimum & Maximum Bets and Table Limits
You specify the minimum and maximum stakes allowed at the start of the game, as we explained above. To sum them up, 1.00 coin is the minimum bet, and the maximum bet can be 100.00, 250.00 or 500.00 coins. Poker chips used to place bet(s) contain different numeric values and these are: 0.10, 0.50, 1.00, 5.00, 25.00, and 100.00. As long as you don't exceed the maximum bet allowed, you can place more than one chip to any betting spot on the table. The highest payout you can get is 17.500 coins.
American Roulette Online Casino Etiquette
Roulette is a historical game, and like any other game born in Europe, it has some unwritten rules, which is also known as "roulette etiquette." The most important of them are:
Listen to the dealer. When he says "no more bets," the game is closed, and you should not insist on putting bets on the table. Do not touch the chips while the wheel is spinning and before the dealer announces the winning number. In fact, stay clear of the table during this phase. Tipping the dealer is not mandatory, but preferred.
You have approximately 60 seconds to place your bets. You should only place a bet after the dealer says "place your bets" and stop touching the chips or the table when he says "no more bets." Roulette tables use different chips than the rest of the casino chips. This is because each chip is unique, to identify the players. Remember to exchange your chips for casino chips before leaving the table.  Otherwise, they are worthless – you can't cash-in chips.
Mind your manners. A roulette table is a social meeting point, and you should behave. Be polite, don't shout and respect other players. Some casinos may require a dressing code for the tables too. Place your chips gently on the table, do not toss them. If you can't reach the table, ask the dealer to place your chips for you.
What Is The Best Bet?
There is no "best bet." Some betting options have higher odds, but this doesn't mean they are guaranteed wins. To be on the safe side, you should choose red/black, odd/even or range bets. These have the best odds (% 47.37), but also the lowest payouts.
Myths & Facts on American Roulette Table Game
1) By following the correct strategy, you can beat the casino. Wrong. There is no "system." The game is based on pure luck. Mathematical analyses showed that all of the "systems" are useless. There are neither strategies nor tactics. It was possible to "cheat" the system in the 19th century, by exploiting physical defects on the wheel. These are not possible anymore.
2) Some numbers are due to come up, especially if they didn't for a long time. No. The game is based on luck, once more! Each number has the same possibility of coming up with each spin. There is no such thing as "cold numbers."
3) Roulette in online casinos is rigged. Wrong, but only if you play at reputable online casinos with gambling licenses. If you prefer to play at shady casinos just because they offer "amazing bonuses," sure, that is a possibility.
4) I heard about an exploit. You probably did, but we can assure you that it is not true. Real-life roulette exploits is a thing of the past. At the beginning of the 20th century, all possible exploits on wheels are corrected. You can thank Joseph Jaggers and Charles Wells for that. They both exploited the physical defects on wheels in the 19th century and won hundreds of millions of dollars. This is not possible anymore and "breaking the bank" is impossible.
5) The dealer can control the ball. Wrong. You can't control the ball or predict where it will land.
6) All roulette wheels are same. No, they aren't. American wheels are bigger, because of the extra slot.
7)There is a variation called French roulette, and it is the better game. Mostly true. Its features a rule called the "la partage." If you make a red/black, odd/even or range bet and the ball lands on 0, you still get half of your bet back. This version is only played in French casinos, and the house edge is as low as % 1.37. In other words, your winning chances are higher than the other variants.